Many helping hands come together in Hyderabad with the mission to save lives and serve humanity
Sabrangindia – This article was first Published on 22 May 2021 at – : https://bit.ly/3iinAbh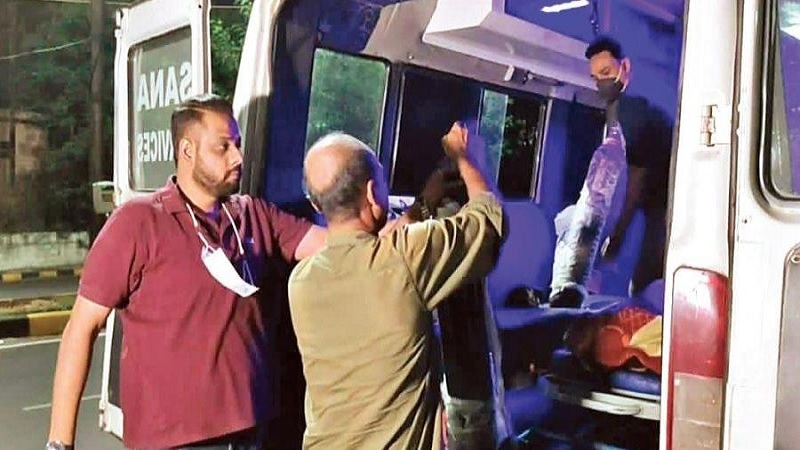 The word 'langar' means community kitchen, large meals prepared in one place and shared with everyone without any discrimination of religion, gender or social status. A term, many familiar with Sikhism, know well. In 2020-2021, 'langar' has taken on a larger meaning, and is helping people cope with the devastation unleashed by Covid-19. Now, there are oxygen 'langars' saving lives. Led by the Sikh community in Delhi-NCR the concept has been equally embraced by the Muslim Community as well, many of who were already offering free oxygen refills, food for the needy, help with transportation, and even conducting last rites for victims of all faiths.
The concept has also spread beyond Delhi, and stories of humanity are now being reported from across the country. This one is from Hyderabad, where when faced with a shortage of oxygen and hospital beds, members of the Muslim community, both in their individual capacity, and as organisations, have come together to help, reports TwoCircles. According to the report, as cases surged in Telangana, shortage of oxygen, ventilators and beds were reported from many hospitals.
Muslim groups quickly organised themselves to aid in relief work, from looking out for and verifying availability of beds like activist Sheeba Minai, who told TwoCircles.net that she makes "50 to 60 calls to get a bed for a patient". She has also helped with the funeral services of the victims, and raises funds from her friends and family members, the work is exhausting physically and more importantly mentaly. She recalls one such case, "I tried to help this lady from 9 p.m. till the wee hours of the morning when it was time for Suhoor (early morning meal during the Muslim month of Ramadan). Sadly, she could not be saved."
Hyderabad citizens put 'Oxygen on Wheels'
TwoCircles writes about Mohammed Asif Hussain Sohail, who heads the Sakina Foundation, and himself is popularly known as Hyderabad's 'Hunger Warrior' as he has been feeding the hungry for over a decade. This year though he gets hundreds calls for Oxygen cylinders each day. Some of these calls, according to the news report, are even from hospitals such as Osmania and Gandhi General Hospital. He says oxygen cylinders now cost around Rs 30,000 refilling costs up to Rs 2500, "which a common man cannot afford". According to Sohail he has spent over Rs 10 lakhs from his own pocket to buy cylinders and send them to the needy who are in home isolation. His foundation has given over 200 cylinders for free, reaching around 2,000 people so far, he told the website.
Sakina Foundation's 'Oxygen on Wheels' initiative provides oxygen cylinders to patients who are headed from their towns and villages to the city for treatment. Sohail says, "I wanted to save lives so I came up with this idea to provide emergency oxygen cylinders on the highway." According to Sohail, "Patients were coming not just from the districts of Telangana state but also from Bhopal, Maharashtra, Karnataka. We met them all on the highway and immediately helped them with the oxygen if their saturation levels were low."
Helping Hand Foundation
Mujtaba Aksari's Helping Hand Foundation (HHF), distributed flyers with their contact numbers for people to seek help in cases of Covid-19 emergency, reported TwoCircles. The foundation also helps with organising funeral services to Covid-19 victims irrespective of their religion. Attendant's of those in need of Oxygen are advised to collect cylinders from the foundations godown. They only have to pay a nominal refilling charge, and do not have to pay rent or any advance. The foundation also helps the critically ill reach the hospital and bring them back home when they recover and are discharged. According to the news report, the Helping Hand Foundation owns about 15 ambulances which are free for all patients. The group has 100 cylinders and transport them to homes of people who cannot come to the godown.
Humanity First Foundation
Founder Mohammed Shujatullah, told the media that his foundation has been "feeding patients and their attendants at three government hospitals for the last 5 years." And this year, when he was asked to help arrange oxygen, he purchased cylinders and gave them for free to whoever needed them. "Prices had doubled for both the oxygen cylinders and for refilling but through donations to Humanity First, I continued helping people every day with the 110 cylinders we have," he was quoted as saying. This foundation owns an ambulance that carries the oxygen cylinders to hospitals and homes of patients. According to Shujatallah his foundation received donations which were then used for this purpose.
Social Data Initiative Forum (SDIF)
Founder Azam Khan and Khalid Saifullah started oxygen services during the first wave of Covid-19 pandemic with a stock of 15 cylinders stated the report, however, as seen in the second wave, the oxygen crisis has escalated and the forum has been dding to their stockpile of oxygen cylinders. "We also set up an oxygen bank at Government notified Covid-19 hospitals where usually the poorest of the poor come to access health care," Khan was quoted in the report, adding that this group of patients face even more hurdles as they wait for admission at hospitals "after already having travelled a long distance.The waiting period at the hospital and the travel time further delays the process of the treatment, which is why we opted to help in the government hospitals." The SDIF works in collaboration with two other Hyderabad-based organisations, Safa Baitul Maal and Access Foundation.
Al Hamd Foundation
According to founder Abdul Azeem Mohammed patients can run up treatment bills of Rs. 7 to 8 lakhs in most city hospitals. However, not many can afford that, and Al Hamd Foundation, helps them with online consultations and ongoing home treatment, reported TwoCircles. According to the report, the foundation also helps provide the oxygen cylinders, and medicines to the poor as well as rations if needed.
Jamaat-e-Islami Hind
Jamaat-e-Islami Hind (JIH) Telangana has set up a 50-bed oxygen therapy centre in Wadi-e-Huda near Shaheen Nagar, Hyderabad reported TwoCircles, adding that its student wing, the Students Islamic Organisation (SIO) coordinates "recycling the cylinders, rifling them, coordinating with other organisations for availability".
All stories of hope in one city, an example that has slowly begun to seep into other towns and cities across India. Crucial in the times when the SOS cries on social media seem to have gone down, but that is only because rural India, and even smaller towns are not online, or aware that Twitter and Facebook are also places to seek help. It is these volunteers on the ground, who are saving lives by reaching out to people in need.