Most of the slum dwellers are daily wagers and rag pickers who have been unemployed since the lockdown due to COVID-19 began. However, they still continue to serve the migrant workers.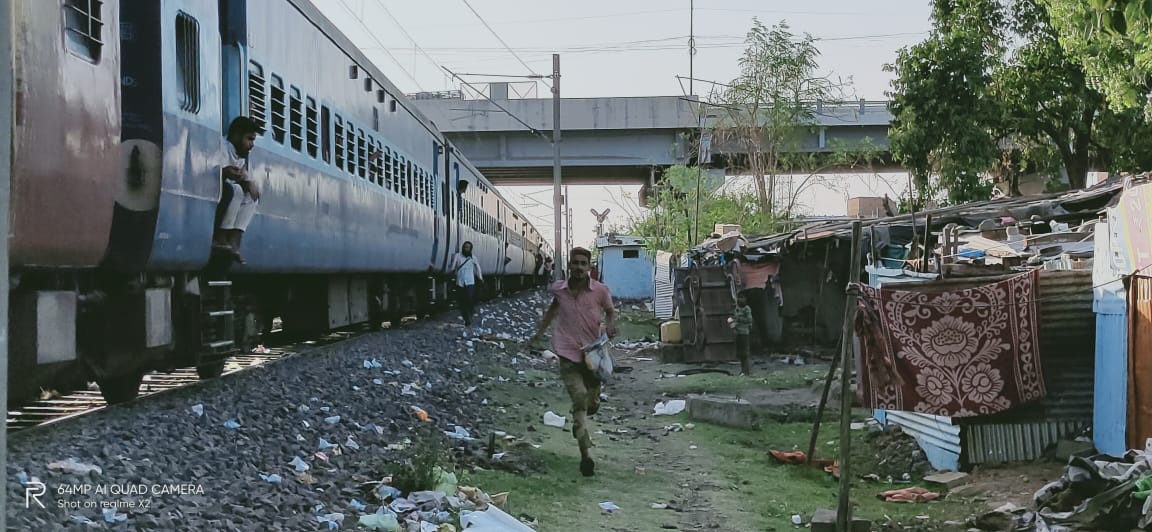 Bhopal: Rasheeda, 40, lives in penury in the New Arif Nagar slum in Bhopal. She wakes up at day break and sets off from her tiny house to collect materials. She has been cooking food for the migrant workers who are on their way back home in the Shramik Special trains.
Her husband, 45-year-old Wasif, is a rag-picker who works for a nearby junkyard. He helps her to get vegetables, logs and utensils to cook food. Within an hour, duo begin cooking tahri (rice with mixed vegetables) and khichdi in turns. After putting a huge pan on a gas fire, Rasheeda returns home to clean up and cook food for their own family. Meanwhile, her unemployed husband watches out for the food while smoking a bidi nearby.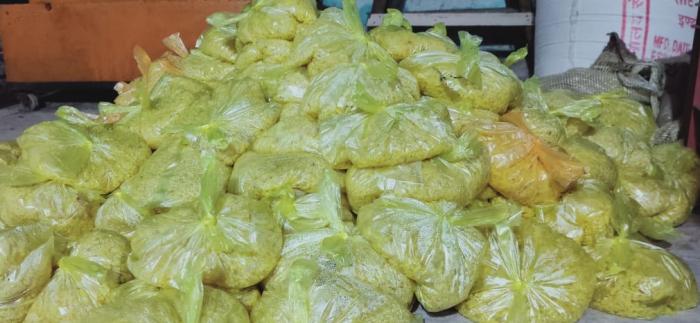 Over the next few hours, the colony's children team up and begin packing the food. As the train arrives around 2 p.m., dozen of children rush towards it train with food packets and water. For the last two weeks, they have been distributing between 200 to 250 packets of food and 50 litres of water on a daily basis.
Since she lives near the railway tracks just outside the Bhopal railway station, the train halts there, waiting for a go-ahead. A fortnight ago, when Shramik trains stopped by, the travellers asked for food and water. Seeing their pain and suffering, she pledged to feed the passengers from the next day.
"I almost cried when I saw their ordeal. Children were crying for milk and the elders for water and food, in this sweltering heat," Rasheeda said. "I told this to my husband and then we decided to feed them. The same day, he managed to collect rice and potatoes from nearby colonies. Since then, we have been feeding the migrant workers on the train," she added.
"They are days when we get to barely eat as well, but we try hard to feed the passengers because we at least are at home. However, the lockdown has not only made them homeless but penniless too," said Wasif.
The couple is illiterate and they themselves are hardly making both ends meet during the lockdown, but they have not stopped.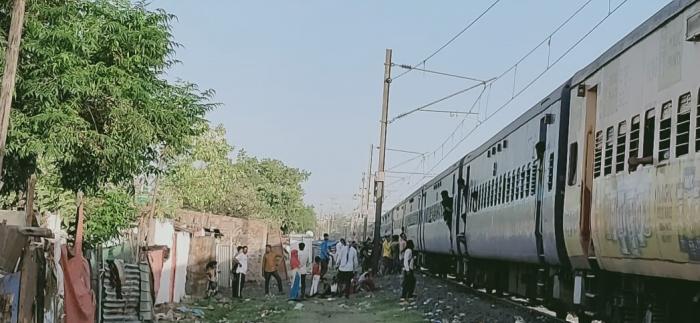 Like Rasheeda, her neighbours too have set up kitchens for the migrant workers. As of now, six kitchens are running in the slums of Blue moon colony and New Arif Nagar. Each kitchen cooks between 20 kgs to 25 kgs of rice, which is then distributed among passengers of two to three Shramik trains.
Since these jhuggis are located on both sides of the railway line at Arif Nagar and Blue Moon colony, they risk their own lives at times to serve the migrant workers when the trains do not stop at the outer reaches of the station.
Firoz Khan, a 40-year-old chef from the same colony, had distributed food in the trains for a week, until he himself was out money. He collected funds from his friends and spent nearly Rs 2,500 a day. The pain and suffering of the migrant workers prompted him to do so, he said.
Nearly 400 families live in the slums of New Arif Nagar and Blue Moon colony. The majority of the population are daily wagers. Most of them are rag pickers, carpenters, mechanics, house maids, and daily wagers. Almost all of them are unemployed due to the lockdown, yet they have been feeding the unfed migrant workers.
"Our home is close to Nishatpura, which is the outer station halt for these trains. These workers did not have any food or water and they used to request us to give them anything we had. After witnessing their plight, we all decided that we should help because we still are at home, but their situation is worse," said 25-year-old Salman Khan, who runs a shop in the area.
Salman and his brother Sultan Khan have been distributing food in the Blue Moon colony since the lockdown was imposed. Sultan owns a shop in the area around the junkyard in Model Town. "We have been distributing nearly 300 food packets in the colony everyday. But, when we saw the plight of migrant passengers, we started distributing food in Shramik trains as well," he added.
The slum dwellers claimed that they had received 5 kgs of flour and rice from government authorities two months ago, and that there had been no help since. However, they still the make sure that those on the trains do not leave on an empty stomach.
Courtesy: https://www.newsclick.in/COVID-19-Unemployed-Months-Bhopal-Slum-Dwellers-Feed-Workers-Shramik-Trains?fbclid=IwAR3qAaCoawuyTX0g2imZNNz5tOXvOfYECPVl44SEwnAxqm1E225ffGqDxzQ